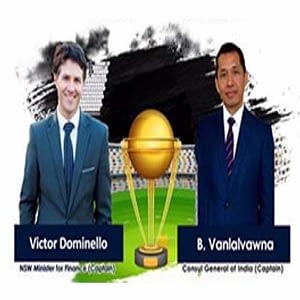 Newly formed organisation AISECS (Australian Indian Sports, Educational and Cultural society) is aiming to strengthen the social cohesion between Australian and Indian communities even stronger.
Why ASIECS is different from other organisations, is the way it is launching itself — by holding a cricket match between Australian politicians and Indian consulate officials.
Victor Dominello and colleagues to face B Vanlalvawna's team at cricket grounds.Gurnam Singh founder and president of AISECS told SBS Punjabi, 'We are a team of volunteers coming from various backgrounds who have established ourselves in this land of opportunities by working all the way up from scratch. We now feel it's our responsibility to provide guidance and directions to the future generations so that they can fulfil their dreams without going through too much struggle'.
'In other words, AISECS is an organisation founded by common people, and for the common people. AISECS is aiming to create stronger future pathways by way of utilizing the rich cultural and sporting heritage that these two nations have in common'.
Gurnam Says, 'The creativity of AISECS can be judged from its formal launch – unlike traditional hotel and club launches, we are inviting a show match between Australian politicians and Indian Consulate office bearers. All are invited to join to enjoy a day full of fun and sports at Meadowbank grounds (on Constitution Road) on 16th Sep starting from 10.30am'.
Would be lots of fun cricket with Consul General officials and Australian Politicians.The future plans and series of events that AISECS is going to bring to the communities would be announced at the launch itself. These will comprise planning and execution of oncoming summer of cricket series between visiting Indian team and Australia as well as holding of few other events to help international students who come here in Australia for fulfilling their dreams.
Gurnam says, 'One of AISECS main aims is to make international students feel welcome in Australia and provide all possible assistance to the newcomers. We, the team AISECS are from a variety of backgrounds and are confident to provide ongoing support and guidance on a variety of topics'.