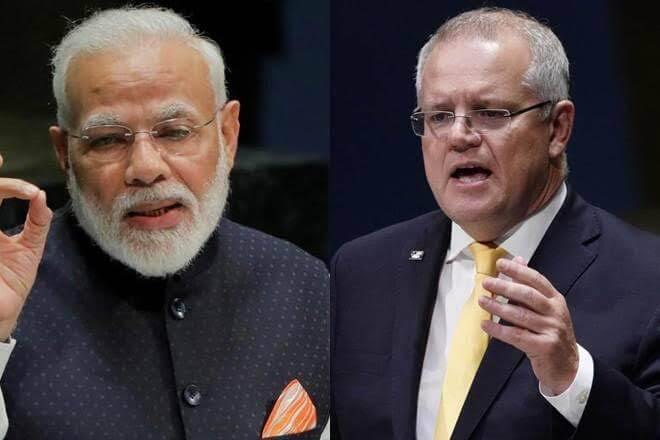 As strategic partners since 2009, Australia and India enjoy strong political, economic, and community ties. Scott Morrison, Prime Minister of Australia, was set to visit India in early January this year but cancelled his plans due to bushfires.
Amidst the COVID-19 pandemic, Prime Minister of India, Narendra Modi, will hold his first-ever virtual bilateral summit with Morrison on 4th June 2020. This summit is indeed a positive development towards strengthening the strategic ties between the Indo-Pacific region and would help build trade relations which in turn stabilize the economy. Modi and Morrison are expected to discuss agreements to develop trade in key sectors, including education, technology, agricultural infrastructure, digital health, critical minerals, and manufacturing. As the Australian economy is highly export-driven, the pandemic has come as a reality check to go beyond its reliance on China.
On similar grounds, Australian-Indian Sports Educational and Cultural Society (AISECS) is working towards strengthening the Indo-Australian bonds, be it sports, education, trade, culture, or bilateral relationships. Our Founder, Gurnam Singh believes, "India and Australia share common heritage linked to cricket, curry, and culture.
Talking about FTA, India would have been the main area of additional market access for Australian agricultural and other exports. Australia already has a free trade agreement with all ASEAN countries and it's been more than eight years Australia hasn't settled the FTA yet with India. It will not just enhance efficiency but will boost economic growth for both countries.
Also, India welcomed Barry O'Farrell AO,  Australia's next High Commissioner in February 2020 who served in the Parliament of New South Wales (NSW) from 1995 to 2015, including NSW's 43rd Premier 2011-2014. He is currently working from the front to initiate flight rescue operations for Indians and Australians.
"I am immensely honoured to be taking over as Australia's new High Commissioner to India – a role that will allow me to expand the ties between our two countries and importantly to advance the interests, the opportunities and the futures of citizens of both our two countries," O'Farrell said after the virtual credential ceremony at the Rashtrapati Bhavan by India's President Kovind.
Along with Hon' Dan Tehan MP (Minister for Education, Australia), Hon. Simon Birmingham (Minister for Trade, Tourism, and Investment) and Hon. Stuart Ayers (Minister for Jobs, Investment, Tourism & Western Sydney) in Berejiklian's government, AISECS (Gurnam Singh) joined meetings to advocate to raise the economic partnership between both the countries.
During his visit to New Delhi in February 2020, Simon Birmingham said, "Many Indians are also choosing to study or holiday in Australia. India rates second as a source of foreign students in Australia and seventh as a source of international visitors. And, pleasingly, India ranks as one of the most popular destinations for Australia's new Colombo Scholarship recipients, to come and study here, again recognizing the two-way value of the relationship."
His visit was a part of Austrade's Australia-India Business Exchange (AIB-X), a multi-month program of events to deepen trade, investment, and tourism engagement between the two countries.
Last Sunday, PM Morrison shared a picture of him enjoying Indian snack "Samosas" naming them as "ScoMosas" and with this, he shared about the upcoming Australia-India summit.
Moreover, the Indian cricket team will visit Australia for the 2020-21 bumper summer of Cricket. This is the main year for us, post-COVID it's all about Australia and India"
In a post-COVID era, Australia and India have the opportunity to change the business models and build bilateral economic relationships to enable sustained growth. And to do this, the Indian diaspora in Australia, both Australians of Indian origins and Indian residents would play an important role in the future.
For India to develop its aspiration of becoming a $5 trillion economy, Australia can add great value and be a dependable partner in this relationship.
The upcoming first India-Australia virtual leaders' summit will bring deeper cooperation and if India-Australia FTA treaty is signed, we can hope for a raised Indo-Pacific bilateral trade and investment.